The hype is real. E3 2018 finally gave us a look at CD Projekt Red's Cyberpunk 2077 and the reaction has been strong. The Witcher studio looks like it's on to something big with its initial trailer and while there's no release date yet, it's clear Cyberpunk 2077 is one of E3's big winners already.
The Cyberpunk 2077 release date hasn't been announced but could be June 2019
While we got a good look at the game, the Cyberpunk 2077 release date has yet to be announced. However, a previous investor call seemed to suggest a release date before June 2019. If that the case then there's just one tense, impatient year to wait. In a Cyberpunk 2077 hidden trailer message CD Projekt Red say it'll only release the game "when it's ready", citing "quality" as the only thing that matters.
Cyberpunk 2077 trailer shows a super cool but broken future world
It's hard to tell how much the Cyberpunk trailer is target footage and how much is representative but it's clear the 'cyberpunk' bit is bang on. The Cyberpunk 2077 trailer shows a future world where technology has run riot and the social divide between rich and poor appears to be an insurmountable gulf. It's the very definition of the genre things like Neuromancer and Bladerunner established.
Cyberpunk 2077 gameplay looks a bit 'future-GTA'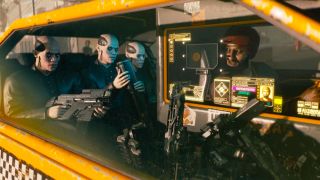 The reveal suggests Cyberpunk 2077 gameplay could follow GTA's driving and shooting model, what with all the cars and weapons on display. Gun violence features heavily, from security and armed ambulance drivers, to machine gun waving cinema security. The as yet unnamed hero also prominently shows off getting a gun out of a case and his car, suggesting we'll be driving and shooting a lot.
That said, the tech side of things will also likely be a big deal. The very presentation of the trailer involved a hacking style interface and several people appear to burn from the inside as their cybernetic implants appear to incinerate them. Is that a potential attack method? Or something happening in the game's story?
The Cyberpunk 2077 is a single player RPG and the story sounds bleak
This is what Cyberpunk 2077 will be about according to a hidden message in the trailer:
"An alternative version of the future where America is in pieces, megacorporations control all aspects of civilised life, and gangs rule the rest. And, while this world is full of adrenaline, don't let the car chases and guns mislead you. Cyberpunk 2077 is a true single player, story-driven RPG. You'll be able to create your own character and…, well, you'll get to know the rest from what we show at our booth at E3."
This article is automatically posted by WP-AutoPost Plugin
Source URL:https://www.gamesradar.com/cyberpunk-2077-release-date-trailer-gameplay-new/